10 Foods That Actually
Fight Inflammation!

In This Video, You Will Discover:


Learn about the trouble making vegetable, YES VEGETABLE... that can make your Arthritis worse. (And Make you feel 5 - 10 years older.)

The real reason why pain killers don't help your pain.

The secret switch inside your body that you can flip to help make it start acting like it did when you were 25 years old.

Which special superfood can actually counteract the damage or arthritis.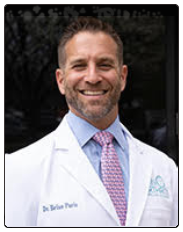 About Doctor Paris
Hi, my name's Brian Paris...
I'm an alternative medicine specialist with a Doctorate of Chiropractic. I run the Pain & Arthritis Relief Center in Rockville, Maryland.
I've worked with thousands of patients with diverse medical histories to put them on a pain-free path that allows them to live an active, confident and healthier life without surgery or prescription drugs.
Why are my methods so successful?
I believe it's because this unique pain-relief formula brings results. It's designed to work holistically in a safe and effective manner.
My health solutions have been featured in publications and TV stations such as NBC, The Washington Post, TEDx, Men's Fitness, Women's World, The Chicago Tribune, The Washington Examiner, plus much more.
People in over 127 countries have used our health solutions to help relieve their arthritis pain.
*Results will vary based on how long and how closely you follow the information presented, as well as other individual biological factors.


References
Adler A, Holub B. Effect of garlic and fish-oil supplementation on serum lipid and lipoprotein concentrations in hypercholesterolemic men. American Journal of Clinical Nutrition. 1997 Feb;65(2):445-50.
NIAMS, NIH, Bethesda, Maryland 20892, USA. Arthritis & Rheumatology (Impact Factor: 7.87).06 / 1998; 41(5):778-99. DOI: 10.1002 / 1529-0131(199805)41:5 <778::AID-ART4> 3.0.CO;2-V Source: PubMed
Hürlimann, David, Frank Enseleit, and Priv-Doz Dr Frank Ruschitzka. "Rheumatoide arthritis, inflammation und atherosklerose." Herz 29.8 (2004): 760-768.
Schett, Ge`org. "Rheumatoid arthritis: inflammation and bone loss." Wiener Medizinische Wochenschrift 156.1-2 (2006): 34-41.
Copyright © 2022 | worstarthritisfoods.com

WorstArthritisFoods.com
7055 South Decatur Blvd Suite #180


Las Vegas, NV 89118

Copyright © 2022 All material herein is provided for information only and may not be construed as personal medical advice. No action should be taken based solely on the contents of this information; instead readers should consult appropriate health professionals on any matter relating to their health and well-being. The publisher is not a licensed medical care provider. The information is provided with the understanding that the publisher is not engaged in the practice of medicine or any health-care profession and does not enter into a health-care practitioner/patient relationship with its readers. The publisher is not responsible for errors or omissions.